From April 15-21, AFPC Senior Vice President Ilan Berman and AFPC Senior Fellow for Asia James Clad visited Indonesia as part of a fact-finding mission focused on politics and religion.
In Jakarta, they met with a broad range of scholars, officials, policy practitioners, and religious authorities to learn about the current political environment in the world's largest majority-Muslim country, and about the role that the country's mass Islamic movements play in shaping society and policy.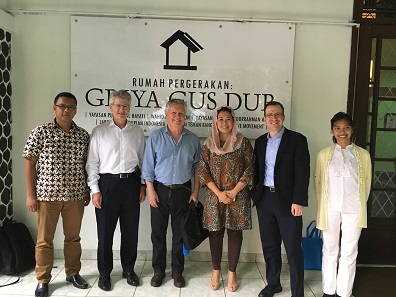 Clad remained in Jakarta following the end of the delegation's formal program, speaking to local contacts knowledgeable about Indonesian political Islam to assess how far strict Islamic religious dictates might be displacing West Java's historically relaxed cultural temperament.
During the same period, Berman journeyed to Magalang in Central Java, where he participated in activities organized by the country's largest Muslim movement, the Nahdlatul Ulema (NU). While there, he met with top NU officials to discuss the Indonesian model of Islam Nusantara and its applicability to the current "war of ideas" taking place in the Muslim world.
A formal report of Berman and Clad's findings is available for review, in either print or digital form, upon request.