At the invitation of the American Foreign Policy Council (AFPC), the Speakers of the Parliaments of Georgia, Lithuania, Moldova and Ukraine – as well as the Deputy Speaker of the Polish Senate – came to Washington between June 25th and June 28th. Their schedule in DC included meetings with Speaker of the U.S. House of Representatives Paul Ryan as well as with officials in the executive branch of government.
AFPC was honored to organize a June 26th dinner for the visiting delegation. The event was hosted by Senator Ron Johnson (R-WI) and AFPC President Herman Pirchner, Jr., and held in the historic Mansfield Room of the U.S. Capitol. The following day, AFPC held a conference featuring the delegation in the U.S. Senate Hart Office Building, which was attended by approximately 170 people including over 40 Congressional Staff and multiple media outlets.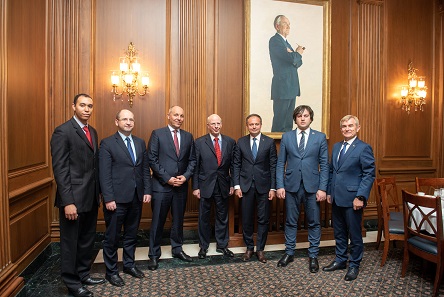 Immediately following the event, Sen. Roger Wicker (R-MS) presided over a well- attended press conference that resulted in coverage on outlets as varied as CNN, the Voice of America as well as multiple foreign TV stations.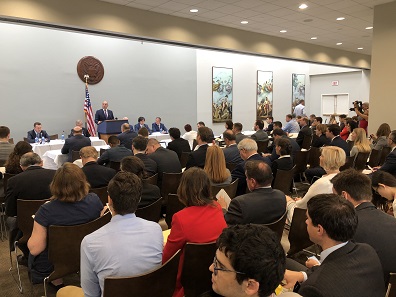 Much attention was paid to the delegation's visit, given its unique composition. All five speakers communicated that their respective governments feel threatened by Russia's aggressive actions in Eastern Europe and, through their joint presence, urged American policymakers to understand that Russia's antagonism against one democratic nation is an attack on the free world. They emphasized that if strong actions are not taken to confront Russian military action and serial treaty violations, the U.S. can expect more of the same. Following the press conference, this message was shared via news outlets such as Bloomberg, Politico and The Christian Science Monitor.